Vent-A-Fume Mobile Fume Extractor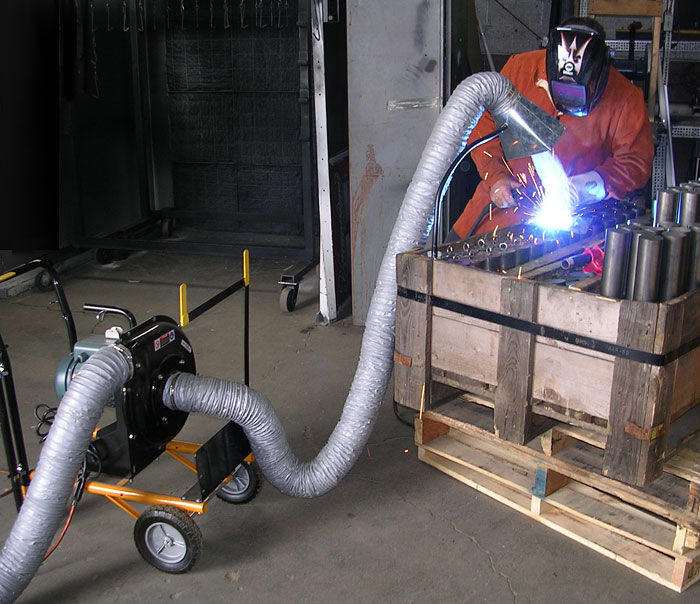 Capturing and ventilating fumes produced by welding, soldering or similar operations (e.g. glass flaming/blowing, plasma/laser cutting) is a critical concern in today's safety-conscious work environment.
The Vent-A-Fume mobile fume extractor is an economical and convenient way to remove smoke, fumes, and heat at their source to help assure worker safety and comfort.
The Vent-A-Fume mobile fume extractor can also be modified or customized for your specific needs. Please contact us for details.
Easy to Use
1. Roll the unit up to the location where the fumes are being produced.
2. Plug the unit into a standard electrical supply (115-volt).
3. Direct the discharge hose to the desired exhaust location.
4. Aim the intake hose with collection hood at the fume area.
System Components:
High-pressure fan unit fabricated with 14-gauge steel housing and a self-cleaning, cast aluminum radial wheel
25 feet of flexible discharge hose
12 feet of rugged flexible intake hose
Rigid galvanized steel zinc coated intake hood with handle and large magnetic base for easy mounting at the fume source
Specifications & Pricing
* Longer lengths of Exhaust Flex Hose are available (@$6.25/ft.); longer lengths of Intake Flex Hose are available (@$13.00/ft.).
Model
HP
RPM
Ph/Hz/Volts
CFM
@0.0"w.g.
Hood Size
Flex Hose
Inlet/ Outlet
Price
PFE-750
1
 3450
 1/60/115
 750
 8-in. (round)
 25 ft & 10 ft.
 6-in. dia.
$1,799.00
More Information