Customer Feedback for Vent-A-Kiln & Vent-A-Fume
Ceramic Studio Owner Stands up to the Heat
"It's not only important to exhaust fumes from kilns. I need to remove the excess heat that rises and escapes from kilns to keep my studio comfortable without wasting money cranking up the air conditioner.
"I installed Vent-A-Kiln over five years ago because a downdraft system does not remove excess heat like Vent-A-Kiln does. My studio remains comfortable, and I also found that Vent-A-Kiln helps my kilns reach the right temperature faster – another money saver."
Greg Fine
Owner
Cone Five Pottery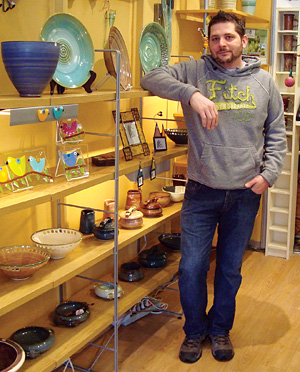 Encaustic Artist Waxes Eloquently About Safety
"Efficient, quiet, and easy to install, the Vent-A-Fume Encaustic Fume Extractor creates a safe working environment for any encaustic artist."
Mark Lavatelli, MFA
Professor of Humanities
Medaille College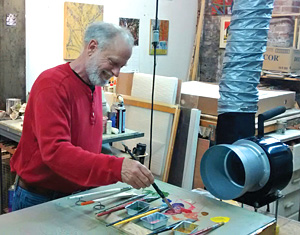 Multi-faceted MRO Facility Combines Two Venting Systems
"It's been a few months since we purchased our welding fume exhauster and overhead ventilation system, and I want to thank you.
"First, the system arrived quickly and just as advertised.
"Second, installation was very simple, and the diagrams provided made putting the units up that much easier.
"Third, it works perfectly. And I can't stress that point enough!
"The ability to raise the overhead ventilation unit allows us to make adjustments and test our thermocouple system while still evacuating the heat and gas produced by the furnace when the vent is lowered.
"The welding vent is exactly the right length to move around the area and collect all fumes produced during welding operations. Since it stores out of the way, the welders can move about the space for grinding or prep of the product.
ìThe sizes of our work areas are limited and our processes specialized, but the two products we purchased are the perfect fit in shape and usability.
"Best regards and keep up the great work."
Zachary Scott
Shop Supervisor/Technical Administrator
Team JAS
Do You Have a Story to Share?
Has a Vent-A-Fume or Vent-A-Kiln made your work easier and safer? Would you like to tell us about it? Give us a call toll-free at 1-877-876-8368 or fill out the feedback form below. Thank you!