Overhead Kiln Ventilation Systems
Vent-A-Kiln systems are pre-engineered to remove excess heat and unwanted fumes and odors from round, octagonal, or any other shape kilns. Models are available for schools and ceramic studios as well as for industrial kilns. Vent-A-Kiln features a one-year factory warranty with an option to extend the warranty for an additional three years. Learn more about our warranty.
System Components
Heavy-duty, corrosion-resistant Aluminum or Stainless Steel hood
Single-speed fan/blower (110-volt)
Overhead counter-weight pulley system
10 feet of flexible exhaust hose (with all clamps)
Externally-mounted louvered discharge plate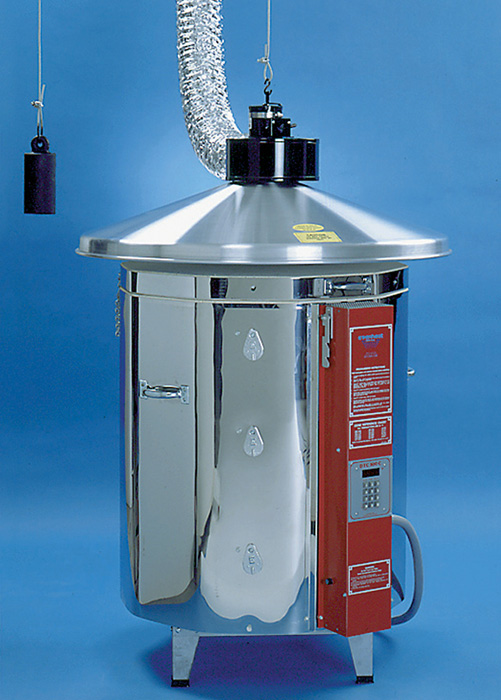 A Swinging Wall Bracket is optionally available for tight spaces where the standard overhead bar cannot be used, or where one Vent-A-Kiln system is used for side-by-side kilns. Click for details and pricing.
To select the correct model, measure the exterior dimension (outer diameter) of your kiln and choose among the systems below that best fit your size. If you have a square, rectangular or oval kiln, you must measure the longest dimension (corner to opposite corner). Round or multi-faced kilns need only have the diameter measured.
We can also fabricate square or rectangular fume hoods to meet the specific requirements of your kiln. 
Specifications
Longest Exterior
Dimension (OD)
Hood Diameter
Blower Rating*
Hose Diameter
Model No.
19 to 23 inches
27-in.
265 CFM
5-in.
1227
19 to 23 inches
27-in.
500 CFM
6-in.
1227/500
24 to 28 inches
32-in.
265 CFM
5-in.
1332
24 to 28 inches
32-in.
500 CFM
6-in.
1332/500
29 to 33 inches
37-in.
265 CFM
5-in.
1437
29 to 33 inches
37-in.
500 CFM
6-in.
1437/500
34 to 40 inches
44-in.
500 CFM
6-in.
1544
41 to 50 inches
54-in.
500 CFM
6-in.
1654
More than 51 inches
Consult Factory
 
 
 
*110 volt
 
 
 
 
Positive and Negative Pressure Systems
Standard Positive-Pressure Systems
Vent-A-Kiln for electric kilns is supplied standard as a "positive pressure" system. The fan is attached directly to the hood and "pushes" the heat and fumes to the exit point.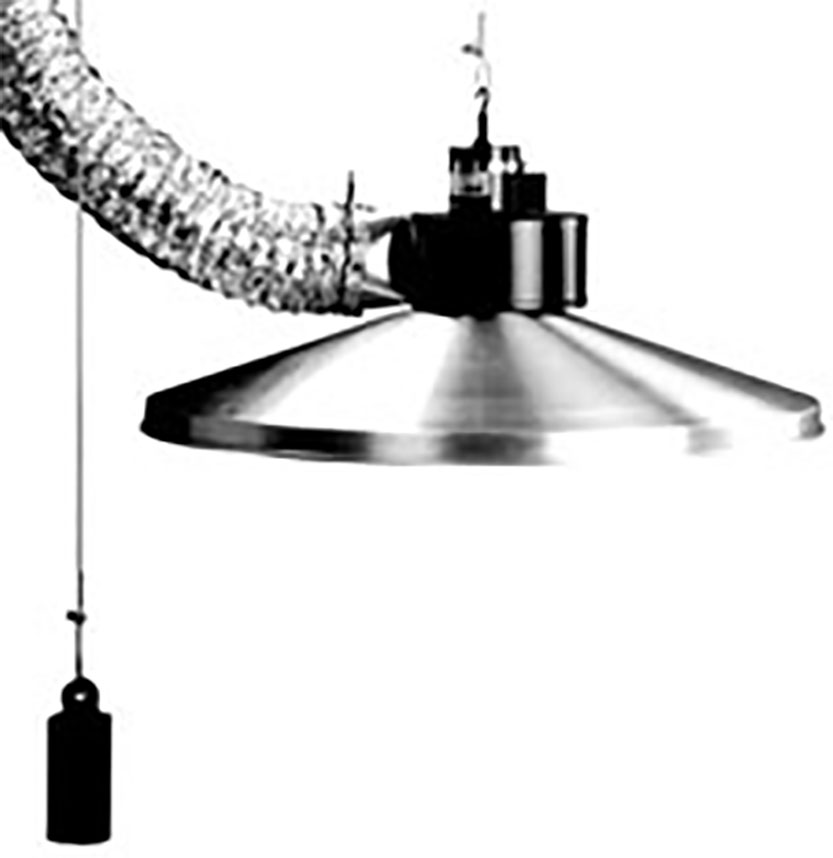 Optional Negative-Pressure Systems
A "negative-pressure" system puts the fan where it can draw or "pull" the heat and fumes from the kiln and bring them to the exit point. Negative pressure is often specified as a safeguard against a tear in the hose. Any pre-engineered system can be modified easily for a negative-pressure application.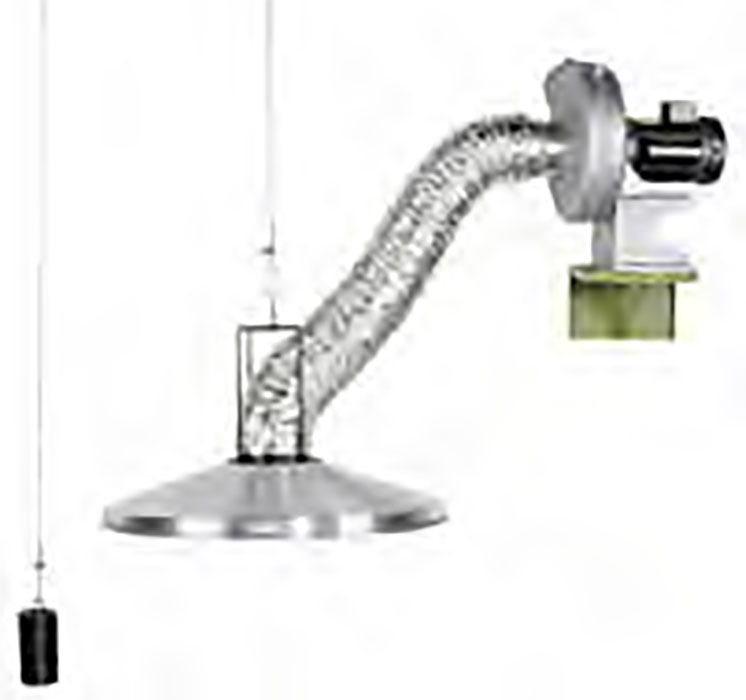 Recommended Vent-A-Kiln Accessories: