Source-Capture Ventilation for Welding, Soldering & Other Industrial Fumes
"Safety First" is echoed around and about factories and metalworking plants, throughout the trade media, and across regulatory agencies. When it comes to welding, soldering, and other applications (e.g. laser cutting, plasma cutting) much attention is paid to protective clothing and ergonomic material handling.
But does your facility pay enough attention to fume extraction?
Welding, soldering, and other industrial processes produce undesirable smoke and fumes that are at best irritating and, at worst, potentially harmful. Whether you are at a workbench, table, or other station, Vent-A-Fume has a system to capture the unwanted emissions produced at their source – and then exhaust the smoke and fumes from your working environment.
The result is a cleaner, more comfortable, and safer working environment.
Watch the dramatic video of Vent-A-Fume capturing fumes at their source.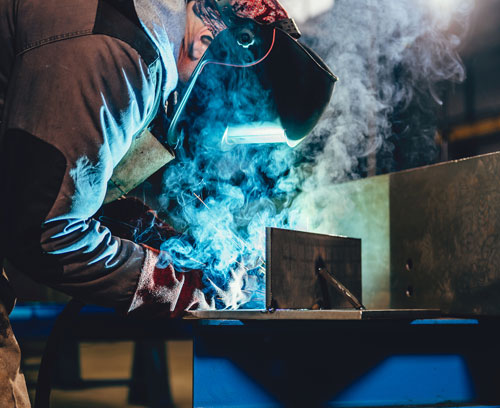 For use as a welding smoke eater, soldering smoke eater, or other industrial fume extraction, Vent-A-Fume systems are easy to install and operate. Unlike many exhaust fans and fixed hoods, Vent-A-Fume can be moved to a different location and modified for multiple workstations to control welding or solder fumes.
Designed and built in the USA, Vent-A-Fume is priced competitively with a powerful motor/blower for fast and effective industrial fume absorption and removal. Larger CFM volume fans and hazardous-duty motors are also available.
Since Vent-A-Fume exhausts process emissions directly outdoors, you are not recirculating air or dealing with filter maintenance and replacement costs.