Accessories for Your Encaustic Art Studio
To order any of the items below, call toll-free 1-877-876-8368 or use the Contact Us form to request more information from Vent-A-Fume.
Waxmelter Palette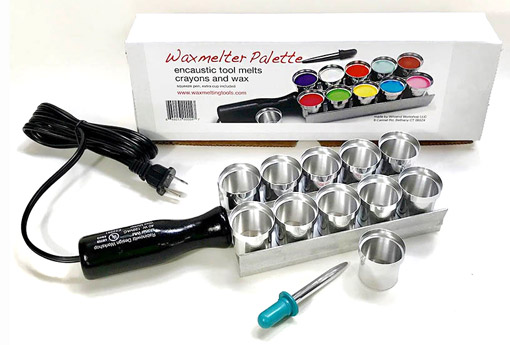 The ideal kit for encaustic medium painting, Waxmelter Palette is an electrically-heated aluminum palette that melts encaustic paint, crayons, paraffin, beeswax, or soy wax. It features 10 cups (plus a spare) that heats the substance to its proper temperature and maintains even heat as long as the unit is plugged in. No temperature regulator is needed.
Designed for encaustic, batik, pysanki egg painting, wax-resist painting, and candle decoration.
Excellent tool for recycling small pieces of leftover crayons.
Packed in a convenient storage box with operating instructions and safety rules. (Note: not intended for children under the age of 15.)
Includes one (1) Squeeze Pen® with directions for use.
Model #PALETTE-115: $59.00
Infrared Laser Thermometer
This infrared (IR) thermometer features precise laser targeting so you can measure exact surface temperatures when using your Roland HOTbox or an appliance used as a palette for encaustic medium painting/artwork. Compact, rugged, and easy to operate, it is an excellent quality control and safety device.
Designed for professional, residential, commercial, and industrial use.
High-visibility laser targeting.
Features a backlit display with excellent readability.
Switchable between Celsius and Fahrenheit.
Impact-resistant case.
Complies with 21 CFR 1040.10 and 1040.11.
Model #THERMOMETER-115: $59.00
Specifications:
Measurement Range:
-58°F ~ 1022°F (-58°C ~ 550°C)
Accuracy:
-58°F to 32°F <±7°
@ 33°F to 1022°F <±7°
or ±2% (whichever is greater)
Resolution:
0.1°C/ 0.2°F
Emissivity:
Adjustable pre-set to 0.95
Response Time:
<1 second
Distance to Spot:
12:1
Readings:
Min, Max
Power:
 Requires one (1) 9-volt battery (not included)
Warning: Laser Radiation. Avoid Direct Eye Exposure.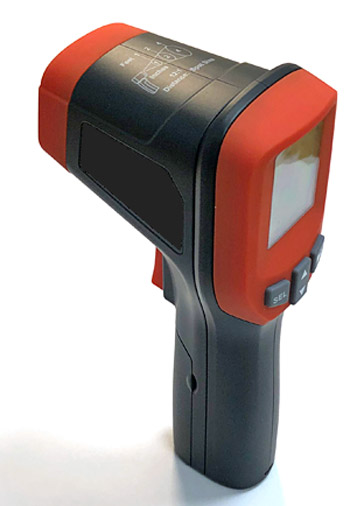 1-3/4″ Nylon Spring Clamp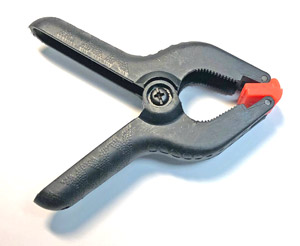 These high-quality, low-cost clamps attach to the clamp rail of the Roland HOTbox to hold the surface material in place for encaustic monotypes. Also ideal for use with any other surface while performing encaustic medium artwork.
Features swivel pads at the ends to adjust to irregular shapes without marring the surface.
Heavy-duty, fiberglass-reinforced body.
Powerful spring with 21 lbs. clamping capacity.
Easy to grip and non-conductive.
Two (2) per HOTbox recommended.
Model #HB17 CLAMP: $4.99 each